I'm sure most online entrepreneurs are well aware of how much an effective e-commerce website can bring in. If you want to succeed with your online business, then incorporating the best shopping and E-commerce icon sets in your e-commerce website is a must; they're one of the important elements that enhance the look of your website.
Are you building a website for an online store? Did you know that having the right icons and visual assets can massively increase your conversion rate?
There is a great collection of e-commerce icon sets out there. And that is what this post will focus on. I believe it is important to find an e-commerce icon set that works for you. You want one that looks good but also flows well with the other icons you use.
In this post, we have curated more than 50 free shopping cart icon sets you can download and use in your next designs. These icons are quite useful when you are designing online store websites.  Have fun.
You might also be like:
Last Updated: Feb 03, 2023
Free e-commerce icon set featuring shopping carts, credit cards, money, and other commerce-related items in 2 styles: line and filled.
A set of 30+ online shopping SVG icons created in Figma.
---
A set of 75+ Figma cart icons for e-commerce websites and online stores.

---
A set of 19 hand-drawn e-commerce icons in AI format.
---
A set of 22 e-commerce illustration icons in Figma.
---
A set of 32+ pixel-perfect currency symbol and finance icons.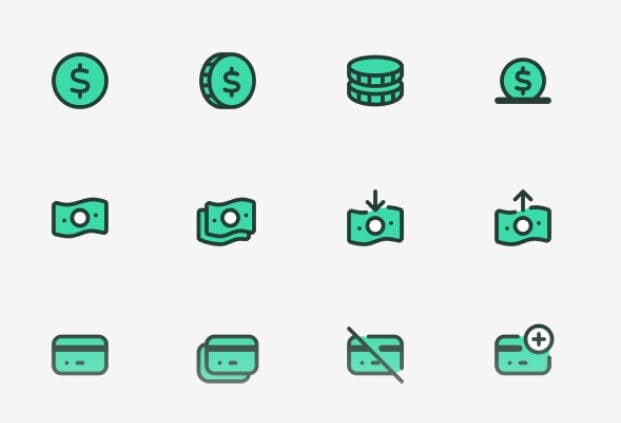 ---
A set of 180+ eCommerce icons in Figma.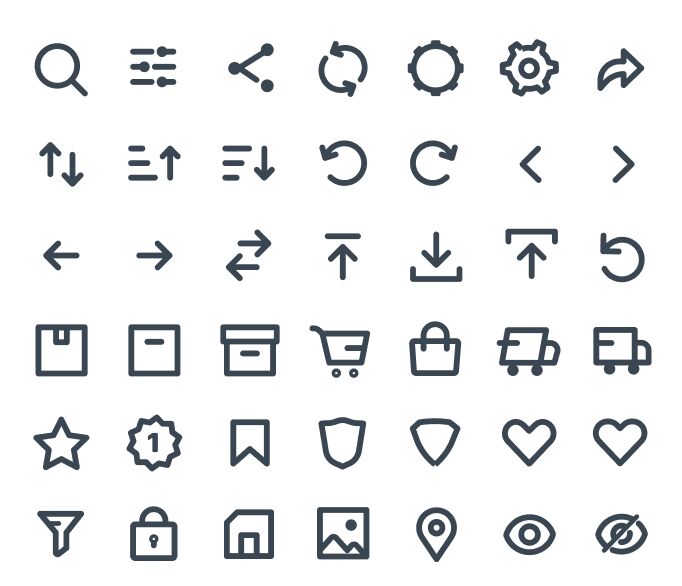 ---
A set of Neumorpic style e-commerce & business icons.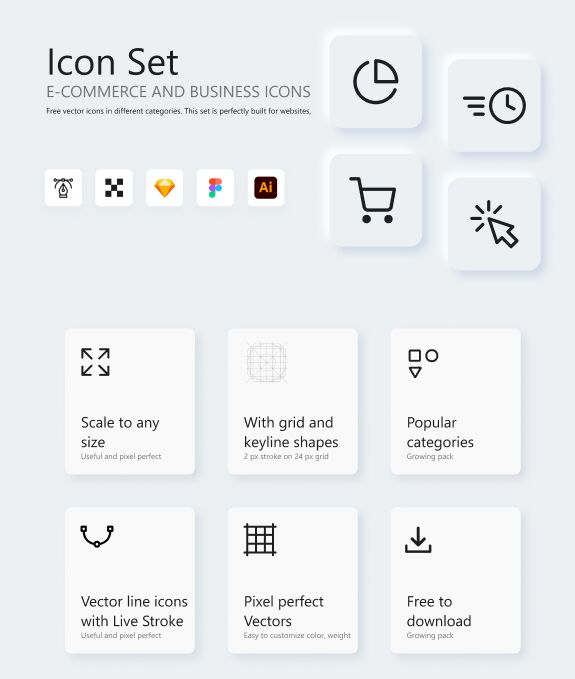 ---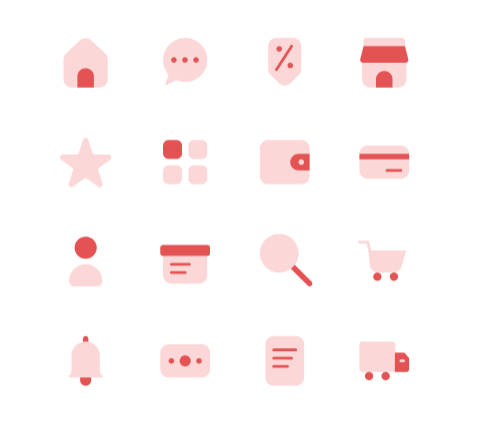 ---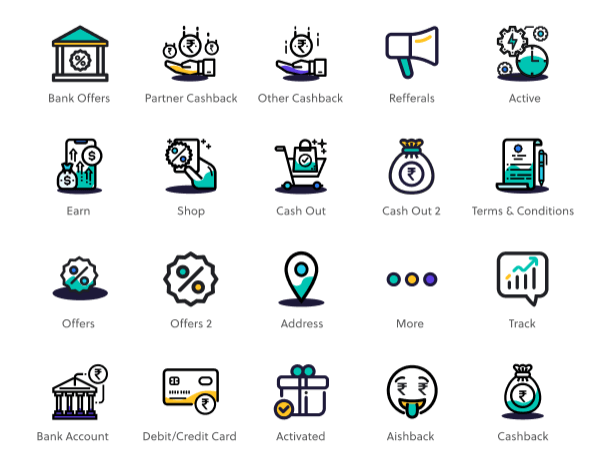 ---
4 eCommerce illustrations for Sketch app.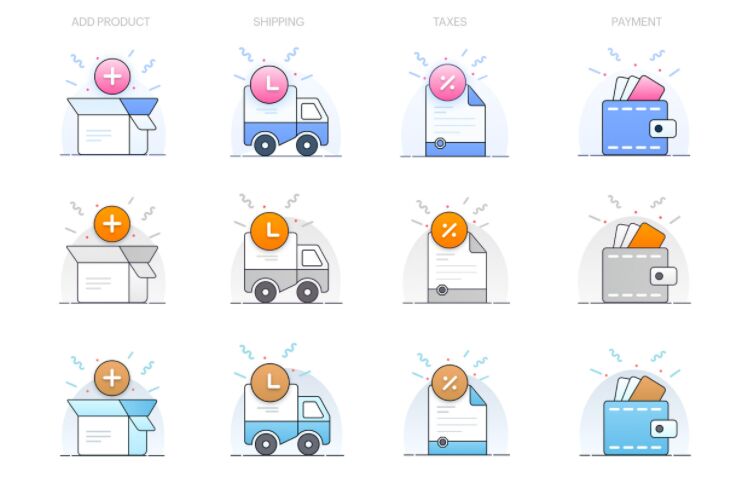 ---
A set of 51 e-commerce icons in Figma.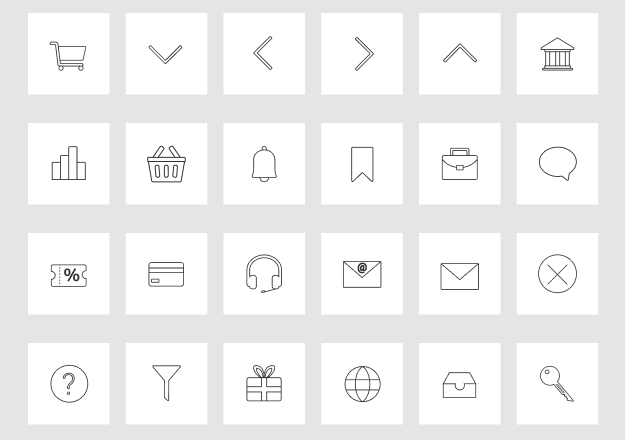 ---
A set of 12 3D icons great for e-commerce websites. Available in PNG, Sketch, and Figma formats.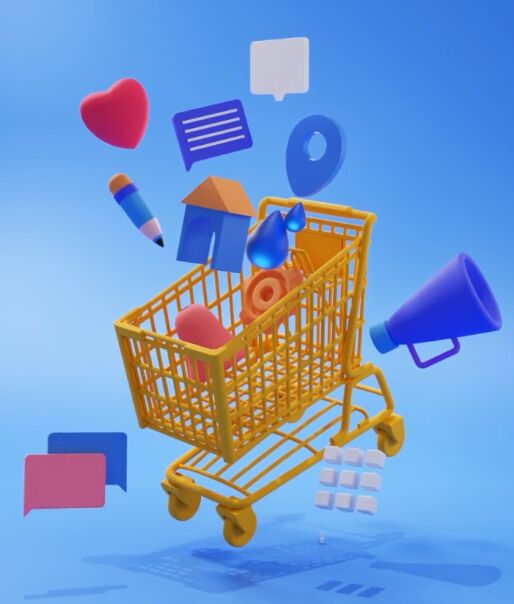 ---
A set of 39 payment method icons for e-commerce apps.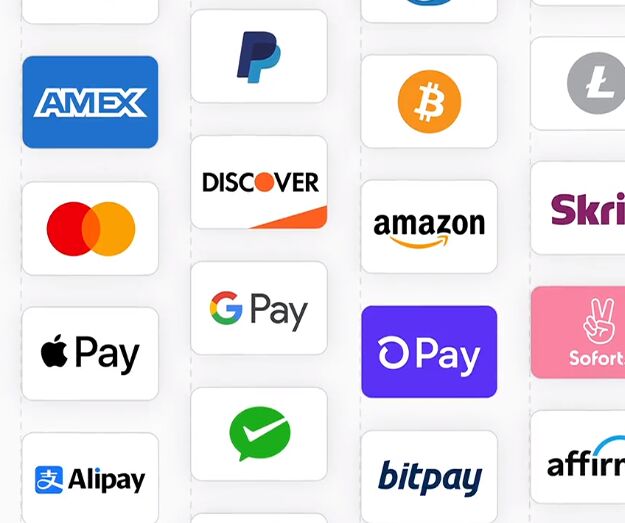 ---
A set of 100 free business charts icons in 2 styles (line & duotone). Available in Figma, PNG, and SVG formats.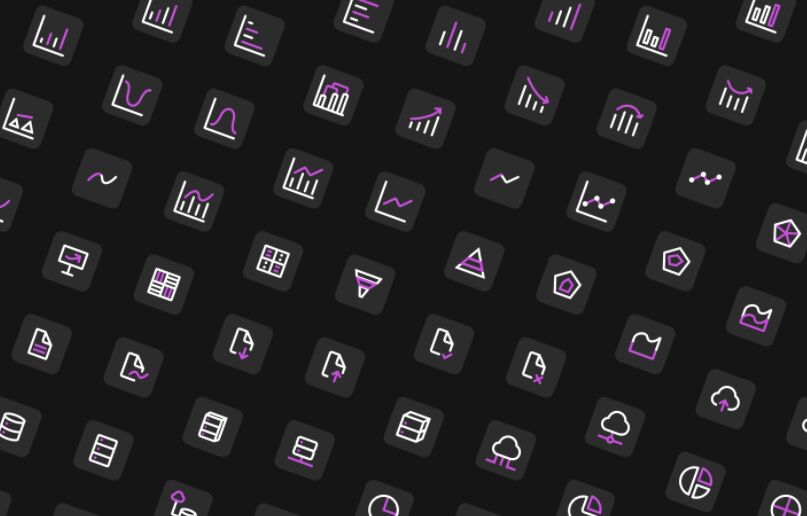 ---
A set of 30 UI icons for e-commerce and business design projects. Available in 2 styles (single tone and dual tone).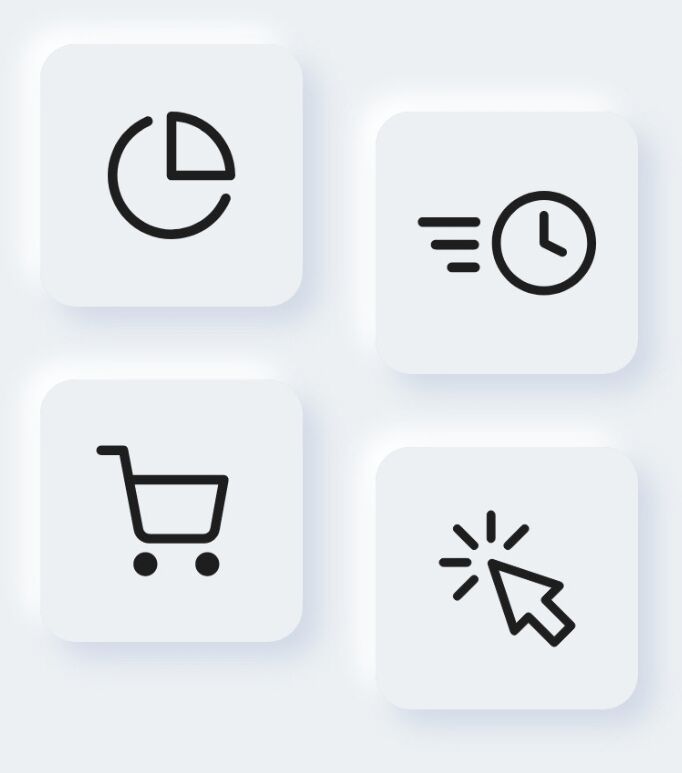 ---
A set of 20 eCommerce icons for online stores. Available in SVG and Sketch formats.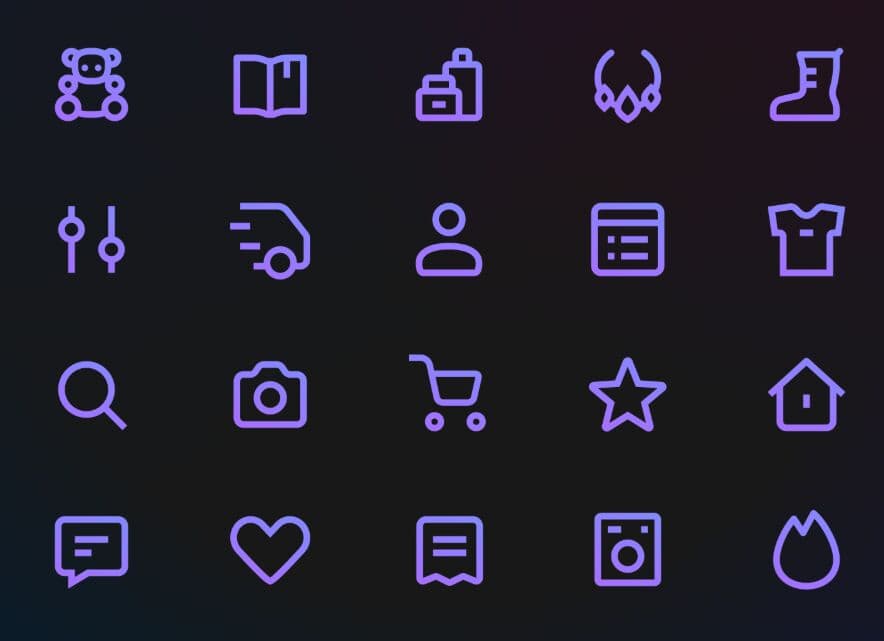 ---
140+ scalable 40×40 e-commerce icons for Figma app.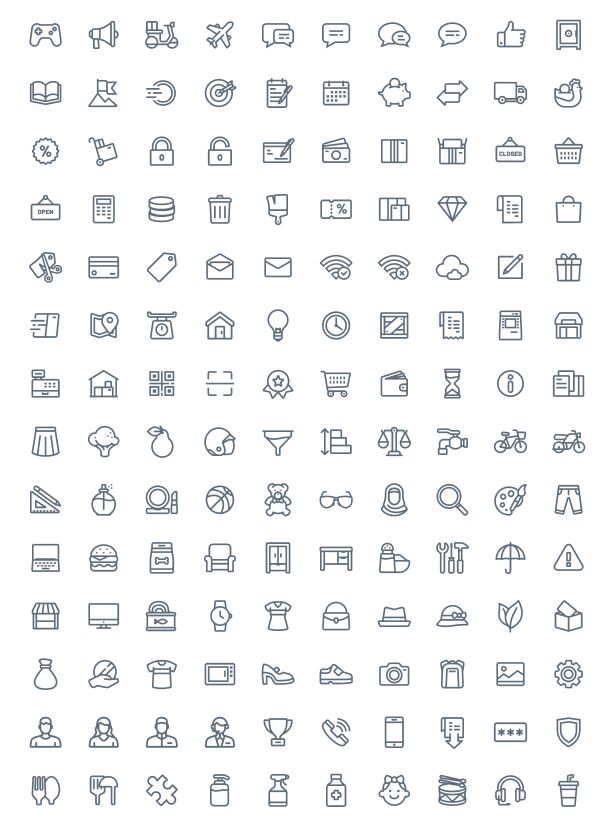 ---
8 minimal clean icons for E-commerce designs: Publish, Sell, Lease, Record, Coupon, Bought,Refund, Sent.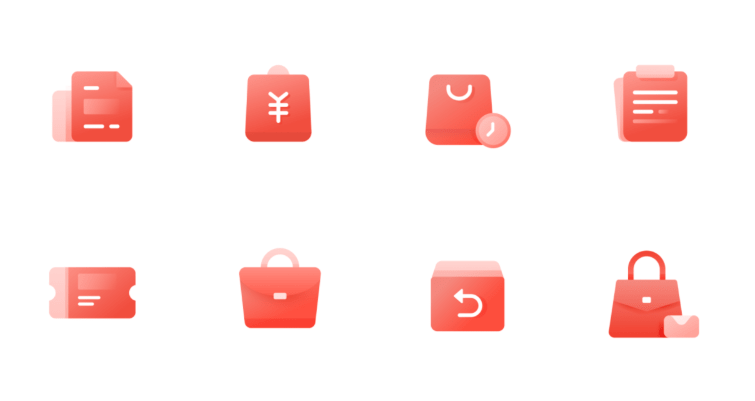 ---
A set of 32 beautiful Delivery & E-commerce Icons for Adobe Illustrator.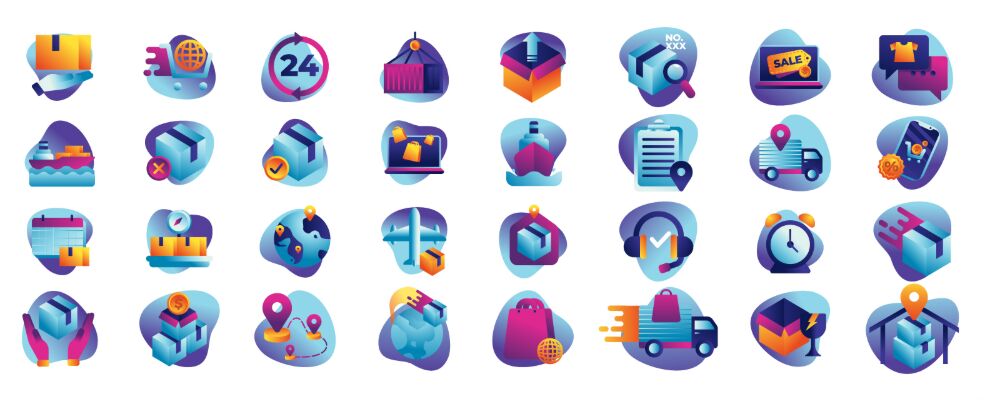 ---
60 e-commerce icons in 4 styles: Bolded, Filled, Regular, and Light. Available in PNG and SVG formats. Includes: Account, Adjust, ArrowLeft, ArrowRight, Bell, Book1, Book2, Bookmark, Calendar, Cart1, Cart2, Cart3, Cart4, Cart5, Cart6, Chat, Checkmark, Close, Creditcard, Delivery1, Delivery2, Discount, Download, Edit, FastDelivery1, FastDelivery2, Flag, Hangtag, Heart, Hide, Home, Info, Invoice, Letter, Lightbulb, Location, Lock, Menu, Money, Options, Package1, Package2, Phone, Present, Print, Quality, Question, Return, Ruler, Search, Settings, Shield, Show, Star, ThumbsUp, Trash, Upload, Voucher, Wallet, Warning.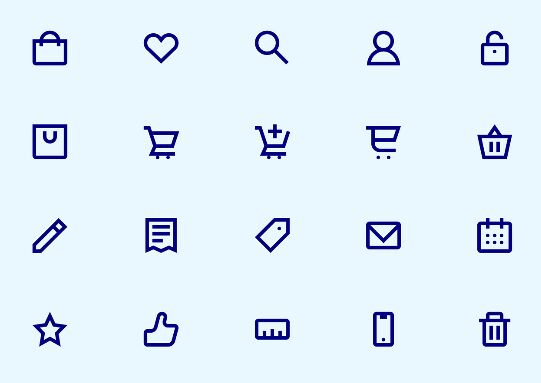 ---
48 vector icons, which are easily editable and multipurpose can solve problems of visual maintenance once and forever. Made in minimalism, they are suitable for iOS, Android & Web. It only takes to download them and experience in Illustrator, Photoshop or Sketch the whole range of their awesomeness.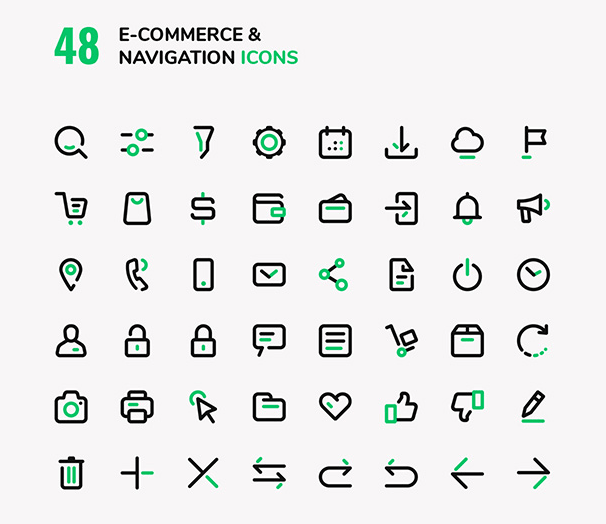 ---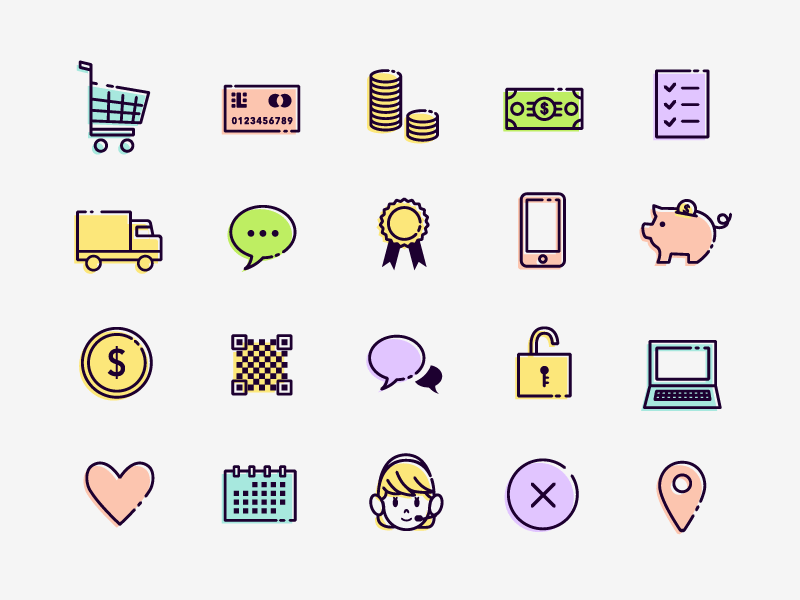 ---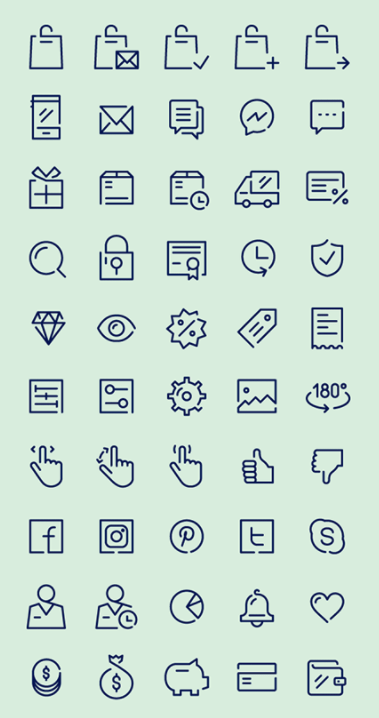 ---
They are available as freebies in all convenient formats of PDF, EPS, SVG, and PNG.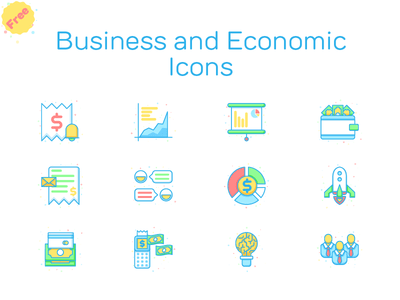 ---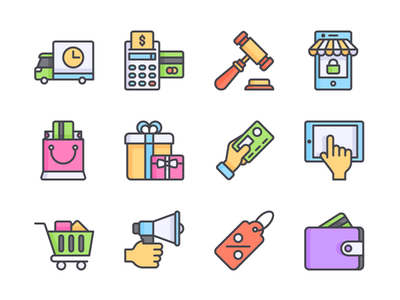 ---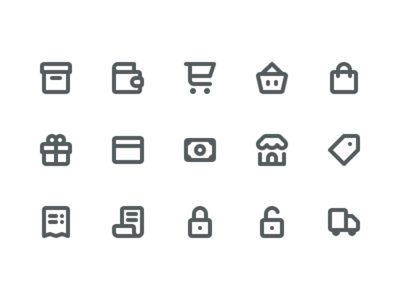 ---
Available in AI format.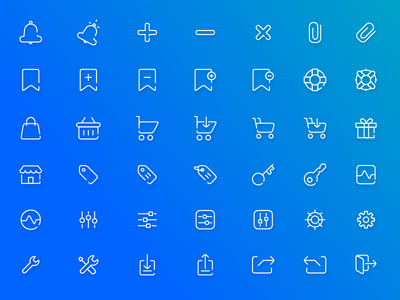 ---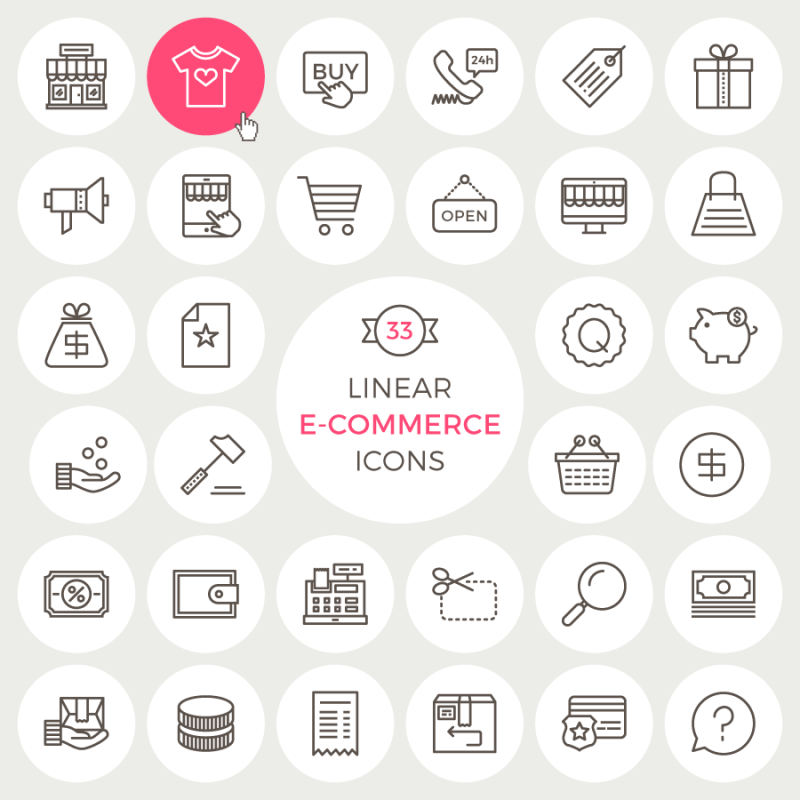 ---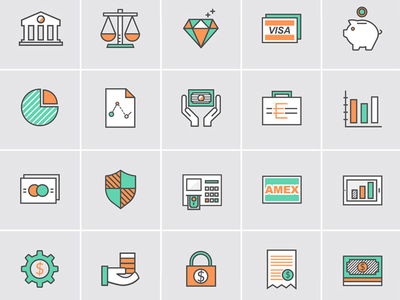 ---
A set of 18 free flat ecommerce icons that would make a nice addition to your design inventory. These icons are created in Adobe Illustrator and hence are fully-scalable. The icons can also be used on light or white background easily even as we have color backgrounds for each icon.
---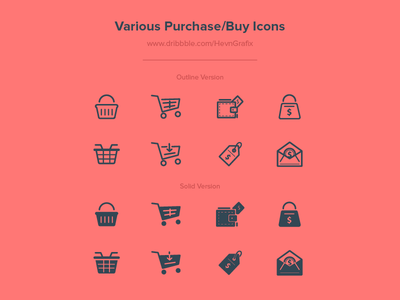 ---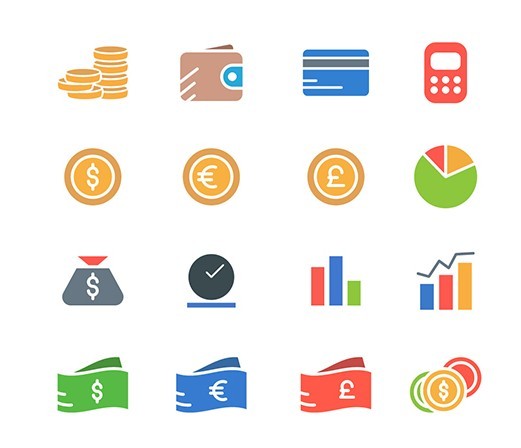 ---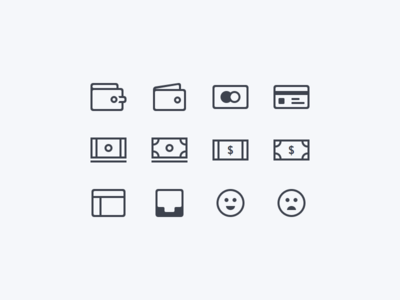 ---

---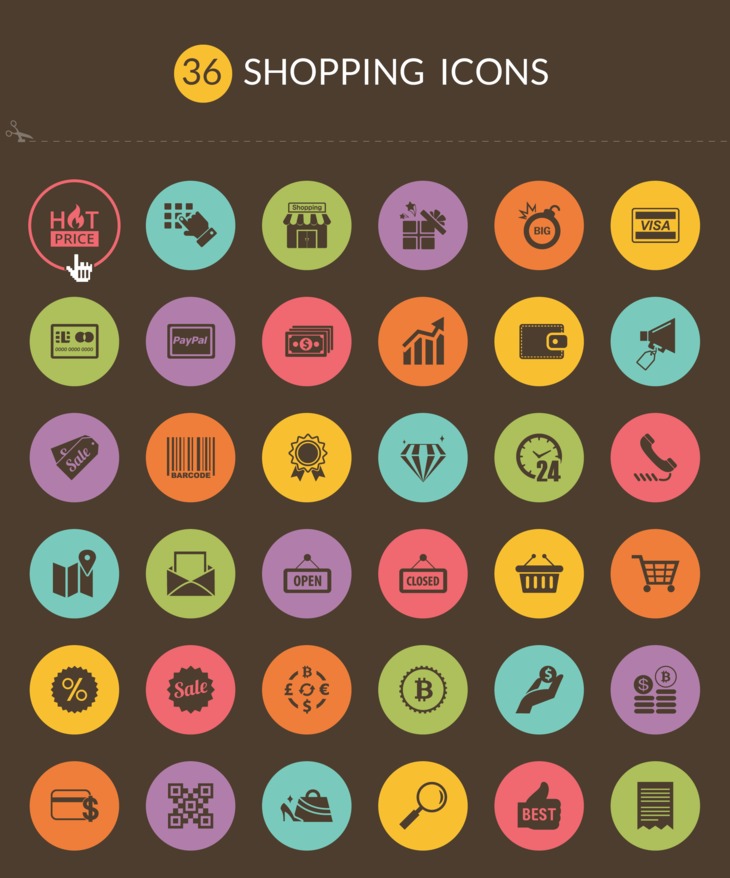 ---
The freebie contains over 36 original high quality flat E-commerce Icons. The collection of icons includes a PNG file, a PSD file, AI formats and EPS files. You can freely use them in both your commercial and personal projects.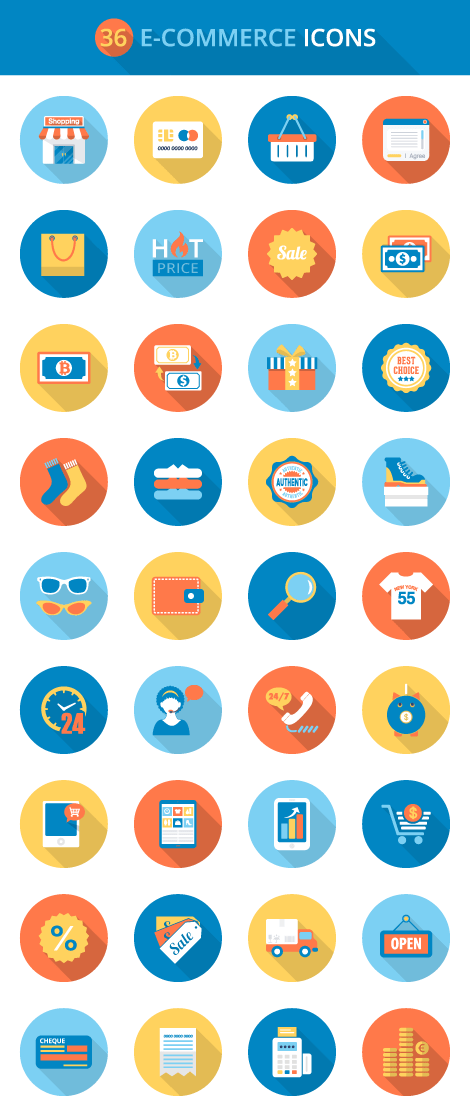 ---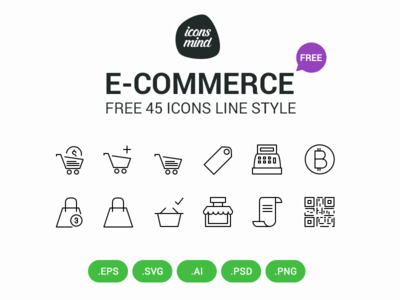 ---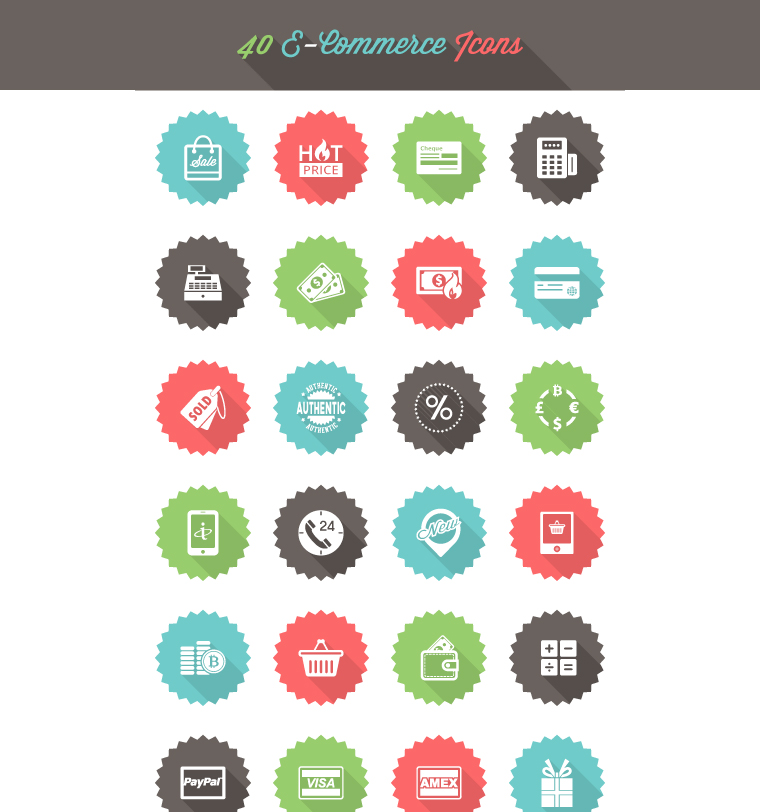 ---
This freebie includes 45 vector outline e-commerce icons. You can change the default 2px stroke at any size and color you like. Illustrator ai, eps and transparent png files included.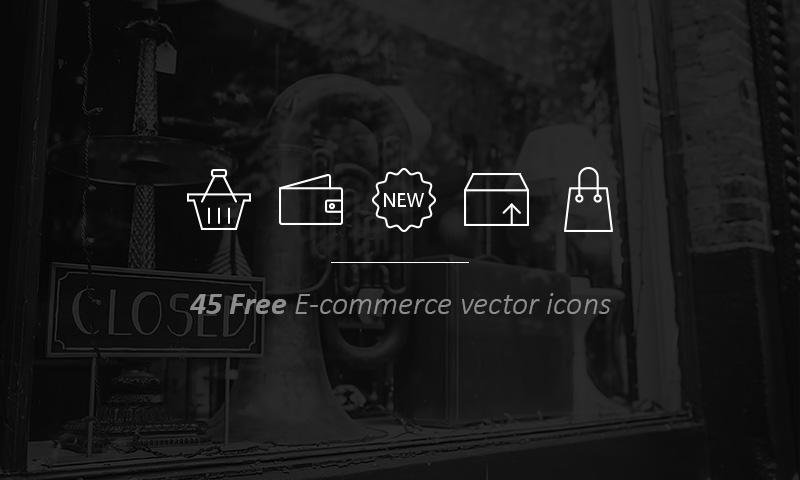 ---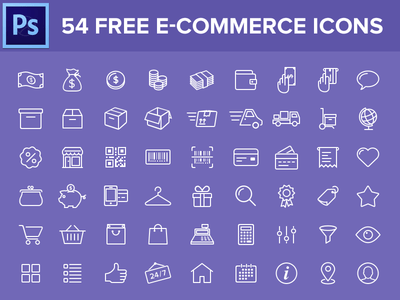 ---
A little pack of e-commerce icons that include both outline and filled variations.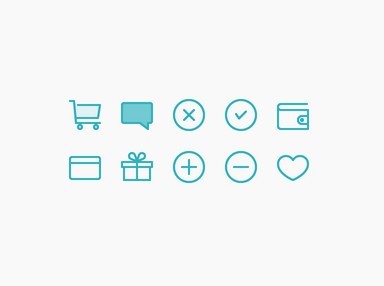 ---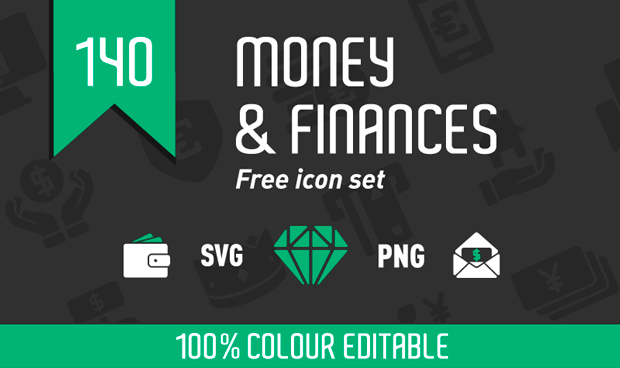 ---

---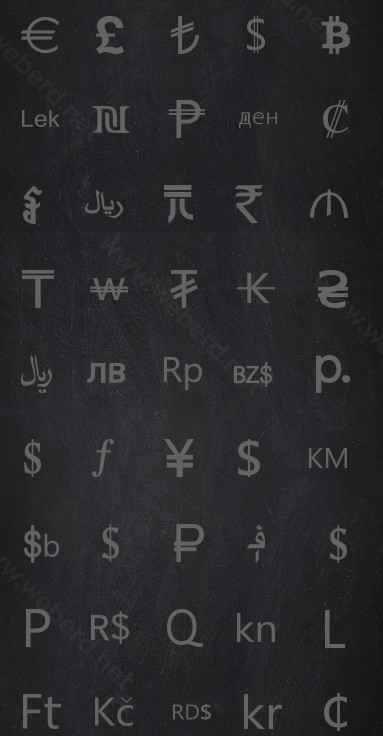 ---
24 flat & fully customizable e-commerce icons.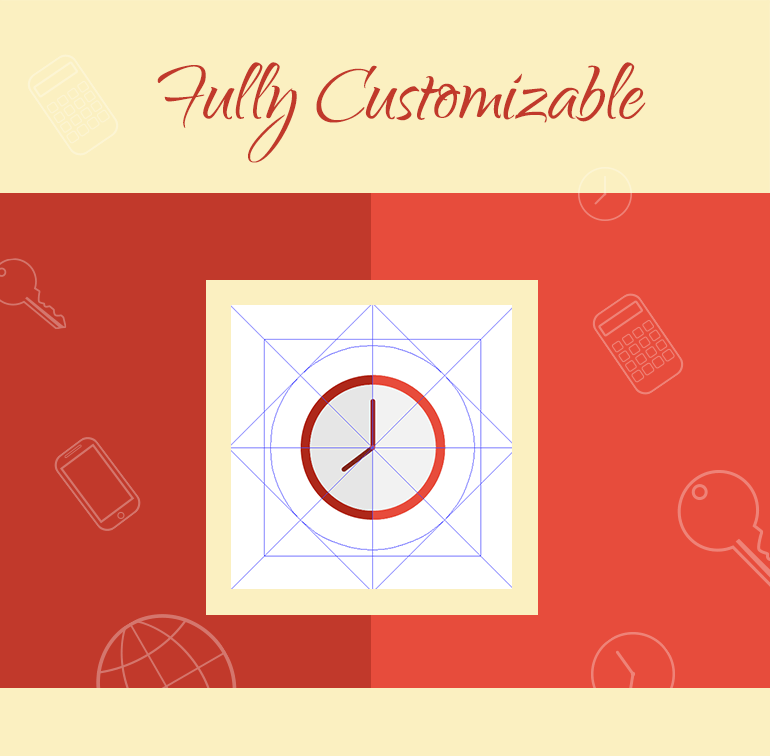 ---
This pack contains 15 free outlined vector icons for ecommerce and shopping. These scalable vectors include online store related icons such as money, a store front, shopping bag and cart, sale tag, barcode and cash register.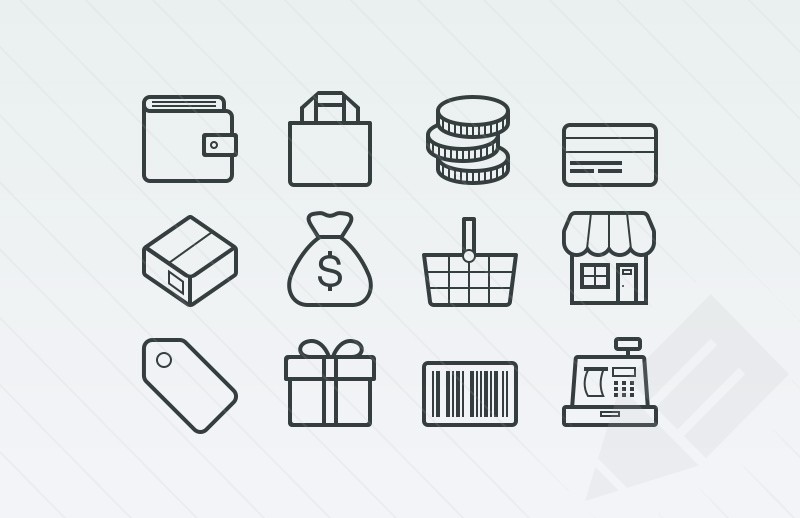 ---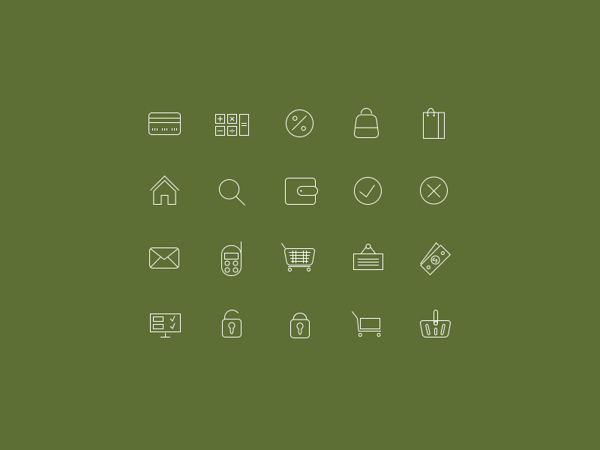 ---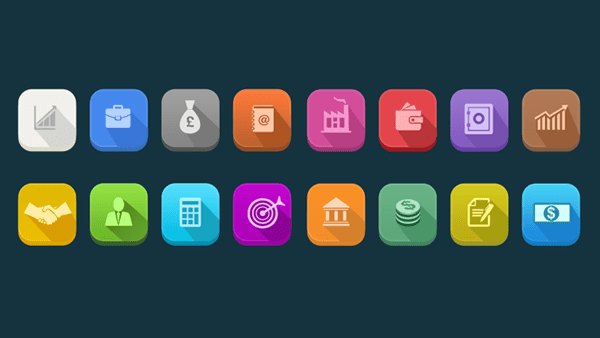 ---

---
A set of 24 line icons for ecommerce shop. These line icons are pixel perfect and come in vector PSD, Illustrator AI and EPS formats and can infinitely be scalable.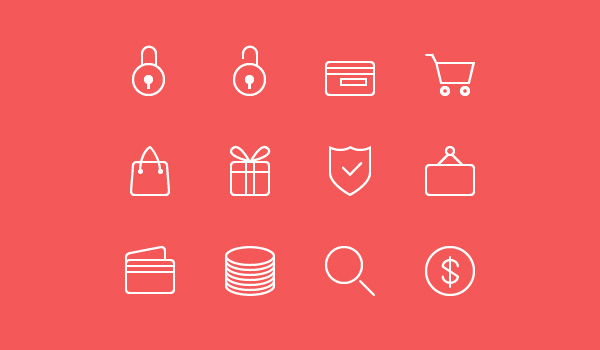 ---
A set of 33 flat e-commerce icons come in different-sized PNGs (32 × 32, 64 × 64, 128 × 128 and 256 × 256 pixels), and the set includes Photoshop and Illustrator files containing all of the icons. Released under the Creative Commons Attribution-ShareAlike 3.0 Unported license, freely available for private and commercial projects.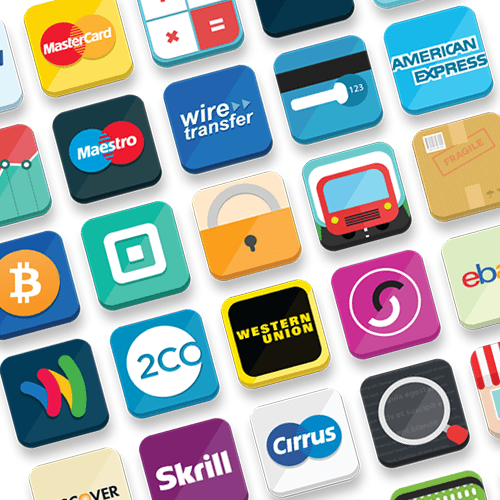 ---
TOP 10+ Payment Method & Credit Card Icon Sets for E-commerce website where you can show what types of payment the shop accepts.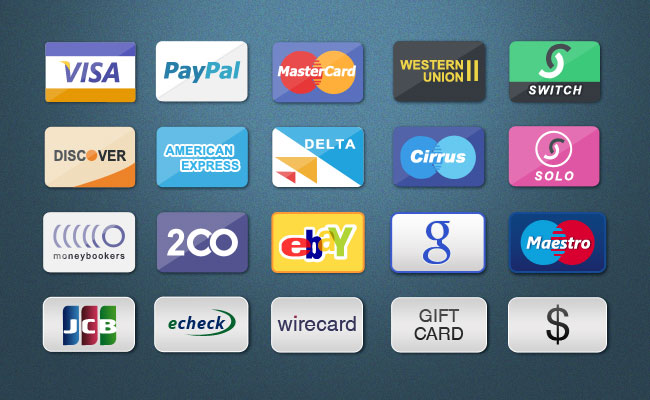 ---
Includes: original, sold, free, tax free, deal, sale, low price, new, gratis, discount, paid and limited.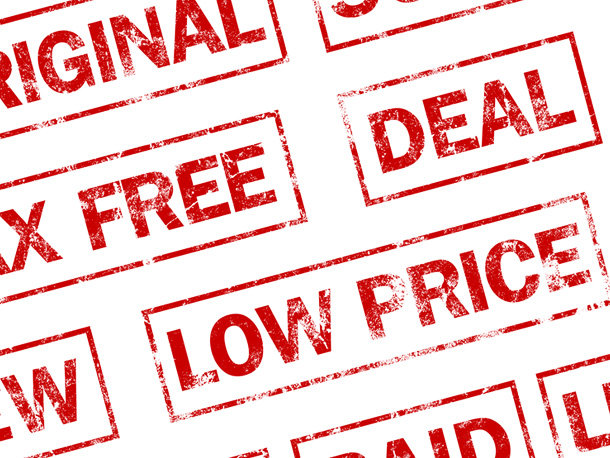 ---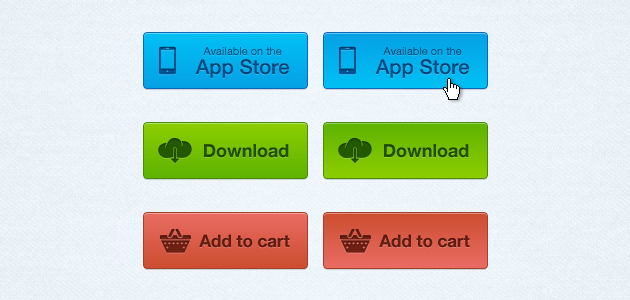 ---
A colourful little set of buttons, each complete with an accompanying icon — Add to Cart, Buy Now, Download, Buy Album, Favorite, and Comment.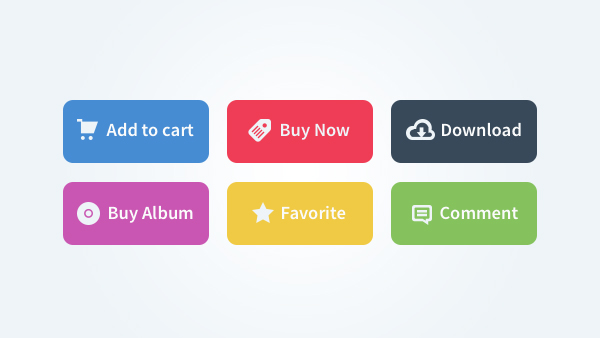 Conclusion:
Like the icons in this list, good shopping and E-commerce website design requires a unique balance of creativity and a deep understanding of what makes those sites work. And while there's no guarantee they will always work exactly as you want, these icons are a great place to start!
This post will likely remain a living document, one that we can add to as the need arises. And if you know of any icon sets that we may have missed or want us to take a look at, please let us know. We are always eager to discover new (or old!) icon sets and share them with our readers. Further, if there's anything about shopping and e-commerce icon design in general that you're curious about, be sure to contact us as well. We love hearing from all of you, and we'd be glad to help answer any questions you may have.